1love

shop...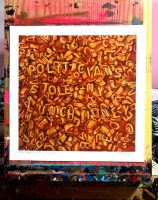 Politicians Stole My Lunch Money
'A painting about those kids in school who stole lunch money and then grew up to be politicians '
Giclee print on Studio Expression 100% Cotton 300gsm paper
Edition of 10
30 x 30 cm
Released January 2021
Super chuffed to release this print for Jimmer Willmott.
The original is currently being exhibited in Miami, USA.