1LOVEART's Beth in The Sunday Times
The lovely Beth was featured in the Sunday Times style magazine this Sunday, wow just how does she make it work?! (picture, Dave Bentley)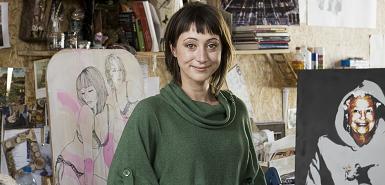 From The Sunday Times
October 25, 2009
How I make it work: Beth John
The co-founder of 1loveart.com
Beth John runs an online art gallery with her husband, Vince. They also own a sister company, 1lovemedia.com, which produces music promos and digital content. They live in Bristol with their children, Josiah, 14, Gracie, 6, and Archie, 2
What's your biggest challenge?
It's hard growing a business with a young family. We worked from home for years to cut costs, so it was intense sometimes. The pressure became greater and eventually the house was full to the brim with art and film equipment, and we were suffering, professionally and personally. It was a huge relief when we got the studio. We made it through the stressful times by talking to each other and being open. We're fortunate: Vince and I get on well — annoyingly so.
Can you keep work and home life separate now?
With the studio space, we have finally been able to make some boundaries, and it has been life-changing. We keep weekends free from work if possible. We always feel much better for it by Monday morning. The children take an interest in the business, though, particularly Josiah, who's a B-boy — he does break dancing, so he's aware of the urban art scene.
Does where you live influence your business?
Yes. We used to live in London, and now our artists are from both Bristol and the capital. Urban art has always been big in Bristol, but the city has become a cultural centre since Banksy paved the way. One of our artists, FLX, was part of Banksy's original crew, and a lot of them are women, such as Dora and Milk.
What's your weekday routine?
I wake up at 6.30am, check my e-mails, and we all have breakfast. I drop off Joe and Gracie at school. I work in the office three days a week, so if it's one of those days, I drop off Archie at nursery, too. I drive a people carrier that becomes a mini-van full of paintings when we do a show. I have a quick lunch at my desk, or go to the Canteen, the new cafe in our building in Stokes Croft — the area is buzzy. One of us leaves at 5pm to pick up Gracie and Archie. We're usually all home for dinner — Vince tends to cook. We've gained two or three hours a day compared to when we lived in London, just because of travelling time.
How do you relax?
We have a big night out once every few months, but most of our relaxing is with the children. We go to friends to eat, go to the park, swimming, the zoo or an exhibition. And Vince often goes mountain-biking with Joe.
Have you always had an entrepreneurial attitude?
Absolutely. I was always told by my parents to believe that I could do whatever I wanted, and that anything was possible. I made a choice not to be employed by someone else — I've worked for myself since university. As a woman, it can be hard to be part of a big company when you have young children, so for me this is the right choice. The pressure is intense sometimes, and I couldn't go through that for someone else.
What sacrifices have you made?
We have had to focus on the long-term vision rather than material things. For example, Vince did all the work on our house himself — electrics, plumbing, decorating. But I don't feel we've had to compromise family life. When I work, Archie loves his nursery, and Gracie enjoys the after-school club.
What have been your biggest successes?
It sounds cheesy, but I'd say our three children. Our oldest has just become a southwest sports ambassador in the build-up to the Olympics. He was diagnosed with OCD last year, but he has been taught to manage it and has made an amazing recovery. Also, gaining recognition for our companies.
Do you have support?
My mum lives in Gloucester, which helps hugely. There are three families who are friends and we take turns to help each other with the children. We're all creatively minded and want to work outside the rules.
Do you have moments of panic?
Yes, but I bite my lip, hold my nerve and ride it out. Stopping would be a worse option.
http://women.timesonline.co.uk/tol/life_and_style/women/families/article6882506.ece