Street Art Hall Of Fame: A Brief Introduction To Richard Hambleton
Richard Hambleton (June 23, 1952 – October 29, 2017) is a Canadian born artist known as The Godfather of Street Art.
Hambleton's early work includes a public art series called Mass Murder (1976 – 1978) in which he painted "chalk" outlines around the bodies of volunteer "homicide victims" in public places. Finished with a splash of red paint, these works gave the viewer the impression of a realistic crime scene. After creating roughly 15 of these works around New York, he continued using the city as his canvas for his second street art collection and most notable work – the Shadowman (1980).
Predating Banksy by more than a decade, the late Richard Hambleton sparked the street art movement in 1980's New York, alongside renowned contemporary artists such as Jean-Michele Basquiat and Keith Haring. His strategically placed paintings of hundreds of looming, shadow figures could be seen all over Manhattan's public walls.
Hambleton's work was shown at international exhibits and his art continues to be widely celebrated. In April 2017, a documentary following Hambleton's rise to success and devotion to painting premiered at the Tribeca Film Festival. The artist died of cancer at age 65 just six months later.
SHADOWMAN
Documentary | 2017
Richard Hambleton's most notable works, life-sized silhouetted images of a mysterious figure known as the Shadowman, quickly gained notoriety in the 1980's Contemporary Art scene. These expressive and gestural shadow paintings were splashed on hundreds of buildings and other structures across various New York City locations, evoking extremely visceral reactions from unsuspecting pedestrians.
Through rare archival footage of New York's underground art scene, Shadowman immerses the viewer in the chaos of Hambleton's life through the various stages of his tumultuous career as an artist and ultimately, his legacy as The Godfather of Street Art.
Available for streaming on Amazon Video and Vudu.
Street Work 
In the early 1980's, Hambleton began his "Shadowman" series. Each of over six hundred dark, ominous, shadowy figures was painted in an unexpected corner, alley, or side street. The powerful blackened "Shadowman" works became legendary guardians in a secret mission to disable the emotional stability of our everyday life—seen in New York City, London, France, Italy and even on the East and West sides of the Berlin Wall. The work was documented extensively by photographer Hank O'neal in New York City between 1982 and 1986.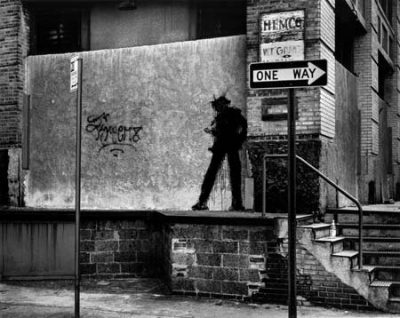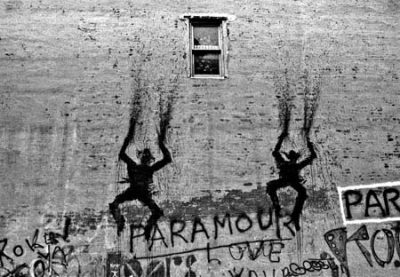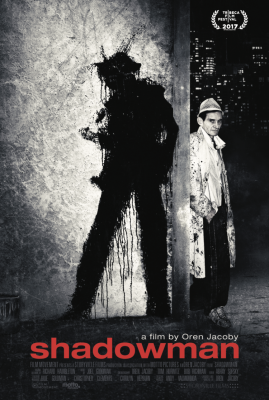 As an Investment;
In the past 10 years Richard Hambleton's work has risen in value by over 1500% in some instances.
Pieces bought for between £8000- 12,000 in 2000 have recently sold at auction for sums in the region of £200,000 – £300,000
See more of Richards Work Here;
https://www.richardhambletonofficial.com/street-art
(Source:  www.richardhambletonofficial.com)