1love

Shows...
Bristol Shows & Exhibitions

U R Not Alone – Group Show – December 2020
After several years in darkness (no pun intended), I relaunched the gallery (sadly, minus Beth and a few teeth ?!) with a show at Alleyway Studios, Bristol at the height of Lockdown.  Fuck Boris, we still managed to get our groove on with the assistance of the brilliant 'White Bully' and 'Planetman'
Super pleased and blessed to have the support of the brilliant T.WAT, FRANKSY, Jimmer Willmott, Kid30, Viral, Glok, MrC, Deko, Silent Bill, K-Guy and many many more..
What a blessing to have such good company for our come back show… Super chuffed.
Click the flyer above to view the show on FLICKR.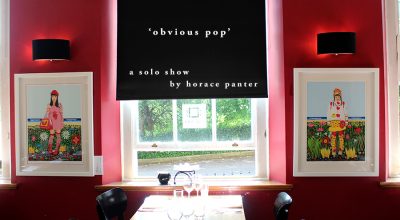 'Obvious Pop – A Solo Show By Horace Panter
1LOVE®ART at The Square Gallery, The Berkeley Hotel, 15 Berkeley Square, Bristol BS8 1HB.
Exhibition Runs:  13th June – Sept 2013. Open daily from 11:00 to 22:00.
Horace Panter, the art loving bass guitarist for The Specials, opened his stunning new solo art exhibition 'Obvious Pop' with 1LOVE®ART at Bristol's The Square Gallery on Thursday 13th June with tunes from the ever fresh DJ Derek. Thanks to everyone who came along on the night.
"Horace has been on the road yet again for another sell-out tour with The Specials, but he found time recently to speak to us about curating the exhibition which stays in the city until 10th September.
"2013 has been a very busy year for The Specials", said Horace.  "It began with us gigging with Iggy Pop in Texas earlier in the year, then we had the recently completed UK Tour and are back in States in July, playing the East Coast.
"When I tour, I'm a musician and when I'm not, I'm a full-time artist. So, I must be one of the luckiest guys on earth! The artistic highlight of my year, so far, was seeing my work rubbing shoulders with that of Sir Peter Blake and Andy Warhol at the Royal Academy in London!"
As well as painting and touring in the UK and the USA, Horace is currently collaborating with Sheaffer Pens who are sponsoring his work as part of their 100th birthday celebrations and he has also just signed a publishing contract for a book about his art to be published by the end of this year." (read full article: 
here )
Horace's Solo Art Exhibition "Obvious Pop' runs at The Square Gallery, 15 Berkeley Square, Clifton, Bristol BS8 1HB from Thursday 13th June.  Until early September 2013.
What better way to take in Horace's collection than over dinner, followed by a few apéritifs in the basement bar.  Contact the Square for table reservations.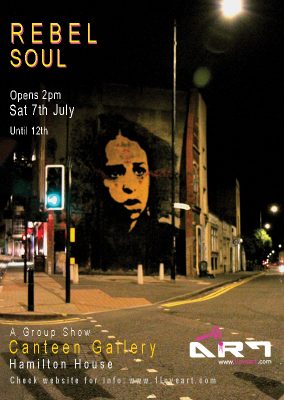 REBEL SOUL
1LOVEART Group exhibition
Canteen Gallery
Hamilton House, Stokes Croft. Bristol
Opening 2pm – Sat 7th July 2012
Exhibition Runs 7 – 12 July 2012
If you love carnival season, you would have been disappointed to hear that the St Pauls carnival was cancelled this year. Obviously the sound systems are still gonna come out, so we thought we'd add a little international art and carnival flava to the mix and throw an opening this Sat 7th July with an afternoon Caribbean rum bar, BBQ, and irresistible one off urban contemporary originals and prints.
'Rebel Soul' opens with new original work and exclusive art pieces from drum and base Godfather, Goldie, London based artists K-Guy, Snik, Bristol's CopyRight, columbian street artist Stinkfishand The Specials very own Horace Panter.
It has been an amazing year for this group of artists; from Goldiebeing named in the BBC's list of New Elizabethans in recognition of his contribution to music and art.  Successful London solo shows for K-Guy & Snik. We secured a feature for CopyRight in The Apprentice to great acclaim.  After global gigs Horace Panterperforms later this year with The Specials in Hyde park to close the Olympics.  And then Stinkfish – a street artist from Columbia who recently exhibited at the Carmichael Gallery, LA and SOLD OUT ! Has thrown some fresh original work in the mix.
PA with music from the usual crew – including White Bully – back from barcelona & 'Chef' from Rice & Things cooking up a storm with some Caribbean food and spinning a few flavas. (Anyone who remembers chef's impromptu street party last year will know it 'Went Off! – a massive treat!) Come down and see us, of course the sun will be shining!
If you cant make the opening The exhibition is open until 12th July 2012, daily from 10 am.
'Up Yours' @ The Square Gallery, Clifton, Bristol.
Show Runs 16th February 2012 – May 2012
Up Yours' is a collection of work celebrating the V's up mentality that is engrained into British & global counter-culture.  Art has a responsibility to subvert or question the status quo and is often one of the few voices with a humorous and rational perspective on the human ego, deadly global politics and institutional bollocks.'
target="_blank" rel="noopener">www.1loveart.com
Art in Foyer and downstairs bar, open to the public,  please ask reception to access the show and maybe even grab a bite to eat from the fantastic restaurant and soak up the art while your there .
Preview Night 16th Feb 2012 – DJ set by 'White Bully', sexed up print rack, canapés n bollocks..
New work and work for sale from private collection by:  K-Guy, Starchild, J Patrick Boyle, Peter Blake, Jimmy Cauty, D-face, Dolk, Jamie Reid, Rouke Van Dal, Dove & White, Dan Baldwin, Gee Vaucher, Mau Mau, Mister Aitch, Paul Insect…
The Autumn Art Launch @ The Square Gallery, Clifton, Bristol.
Private View: Thursday 13th October from 18.30  – 22:00
Show runs: 14th October 2011 – Jan 2012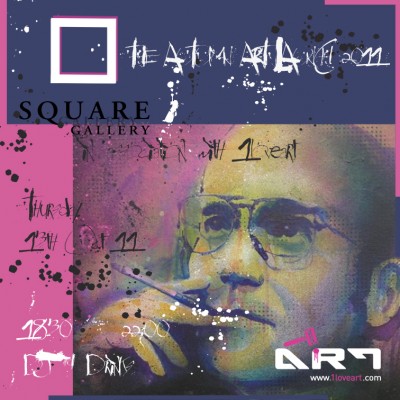 target="_blank" rel="noopener">www.1loveart.com
1LOVE ART STORE & The Square Gallery kick off the autumn Art season with an exhibition at The Square, Clifton. Stunning new work from;
Ian Phenna, Alison Black, Mike Healey, Milk and Rachel Hewitt.
For further details of artists / sales enquiries, please email to beth@1loveart.com
What The F*#K Art Bar @ The 1LOVE Art Store,
Cheltenham Road, Stokes Croft, Bristol
Final ART BAR  – Friday 1st July 2011

Opens Friday 1st July from 6pm until 6pm Sat 2nd when we close.
Click the flyer to view show images on flickr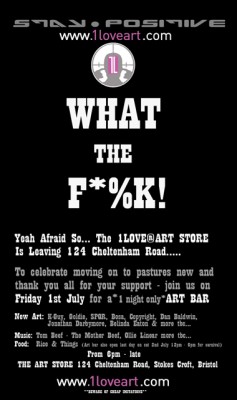 To celebrate our time at 124 Cheltenham Road and a fitting warm up for the St Paul's Carnival – we are hanging some new art for 24hrs only and having a little ART BAR on Friday 1st July from 6pm.
NEW ART FROM: K-GUY, GOLDIE, SPQR, BOSA, COPYRIGHT, DAN BALDWIN, JONATHAN DARBYMORE, BELINDA EATON & MORE TBC
DJ's – TOM BEEF (THE MOTHER BEEF), OLLIE LINEAR, JESUS, ASLAN, more TBC
The Square Gallery, Berkeley Square, Bristol
We've teamed up with The Square Gallery for a spring exhibition on Berkeley Square, Clifton.
Showcasing new work from Goldie, MOTORBOY, K-Guy, Static, James Bates & Starchild
Private View: 17th March 2011 @ 7pm
Come and join us for a glass of wine or a Becks!   Please rsvp with www.thesquaregallery.com
Exhibition Runs: 18 March – 30 June 2011

The Bristol Gallery, Millenium Parade, Bristol
Friday 11th March – Sunday 17th April 2011.
An exhibition at The Bristol Gallery in conjunction with 1LOVEART and Weapon of Choice.
Featuring original work and limited edition prints by international Street Art legends Blek le Rat and Swoon alongside Bristol based artists Dora, Silent Hobo, Inkie, Cheba, James Starr, Mattko and more…
Thursday 10th March – Buyers Preview  5-8 PM
For an invitation, please RSVP to holly@the bristolgallery.com
www.thebristolgallery.com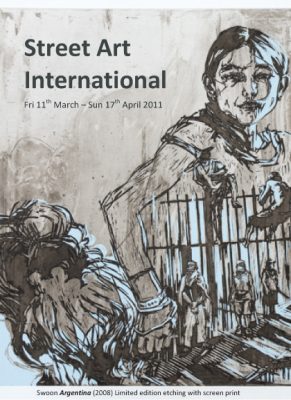 1Love Art Store Opening Show 'Stay Positive'

The Art Store 124 Cheltenham Road, Bristol.
Opens Thursday 18th Nov – runs until Jan 2011
1LOVEART Christmas Shows 'RUMP' Bristol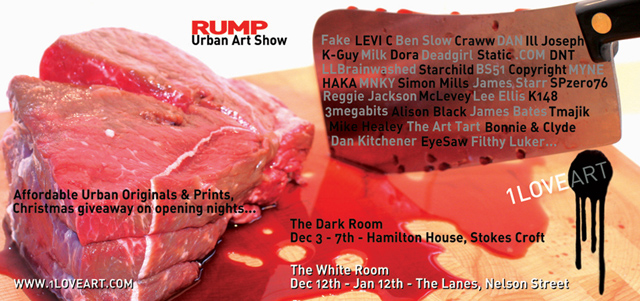 The Dark Room Hamilton House Stokes Croft
Opens Thursday 3rd Dec at 6pm – runs until close 7th Dec 09
The White Room @ The Lanes Nelson Street Bristol
Opens Saturday 12th Dec – runs until 12th Jan 2010


Gina @ The Square – Bristol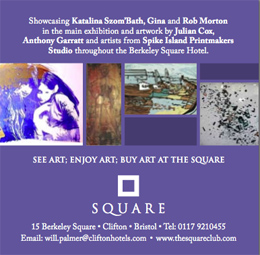 The Square – 15 Berkeley Square, Clifton, Bristol
Wed 11th March – 10 June 2009
In association with The Square Hotel, showcasing Gina, Rob Morton, Katalina Szom'Bath, Anthony Garratt and art from 'Spike Island printmakers.'
Alison Black Solo Show @ City Inn, Bristol.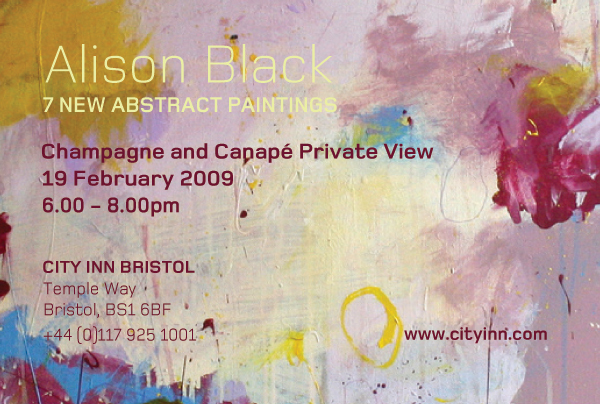 Private View – Thursday 19th Feb 2009
Alison Black specializes in contemporary art which includes a mixture of abstract, graffiti and Manhattan city scapes. Alison's much acclaimed work details large and vibrant images drawn from cultural references and urban iconography. She has progressed from graffiti based art to a move in the direction of pure abstraction, compared to De Kooning at his best; she has arrived at a distinctive abstract style.
'Magic Numbers' @ The Square.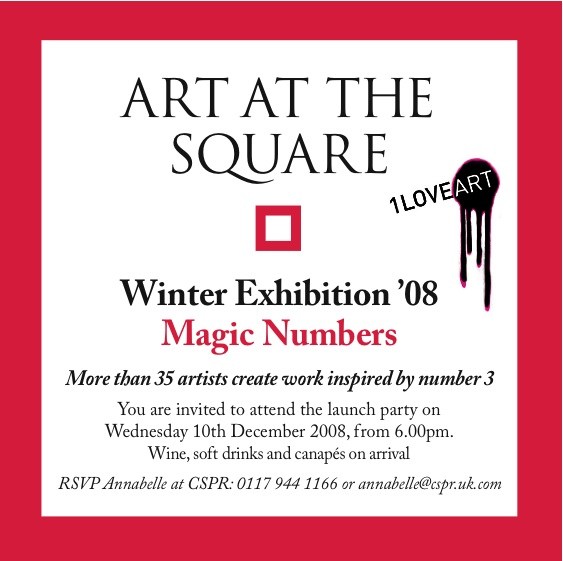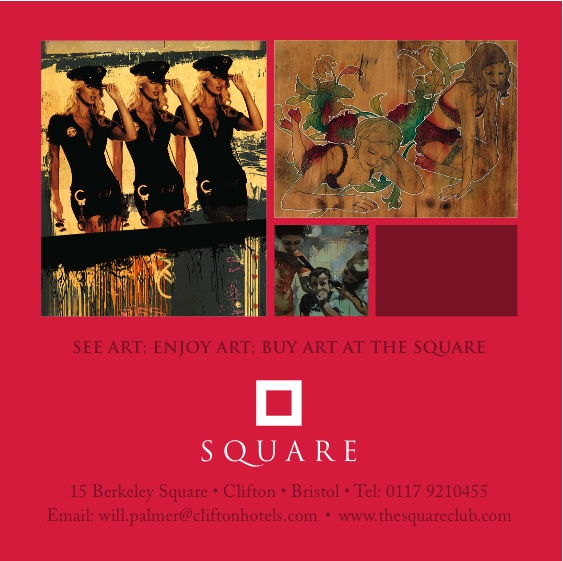 Weds December 10th 2008 – Feb 2009
1loveart's winter exhibition with The Square kicks off with a Private view on
Exclusive new work from;
Milk, Dora, James Starr, Starchild, Dan, Jimmy Galvin, The Art Tart, Hine, Mike Healy, T Majik, Alison Black, Gina, DM
and more…..
Limited edition screen print's from Dora and James Starr.
More info ; beth@1loveart.com
London Shows
How To Start A Revolution

Westbourne Studios, 242 Acklam Rd, W10 5JJ.
Preview with Some Velvet Morning Gig Sun 24th May 2009 Opens 4pm, Band from 5pm.
Exhibition runs 25th May – 11th June 2009
Live Band 'Some Velvet Morning' release their new single 'How to Start A Revolution' and launch another sizzling Art line up at Westbourne Studios, a preview n shin dig on the 24th showcasing new work, tunes from DJ Andy Jenks and live band Some Velvet Morning. Plus all the usual prints and new work from;
Starchild, The Art Tart, Levi C,Bonnie & Clyde, Dora, Milk, DAN, The Krah, Static, Tmajik, Jim Starr, MYNE DM, Gastro, LL Brainwashed, Michelle Barker, Alison Black, Simon Mills, Rachel Bright, 3megabits, Whitty, Gina, Mark Hooley
Mike Healey Solo Show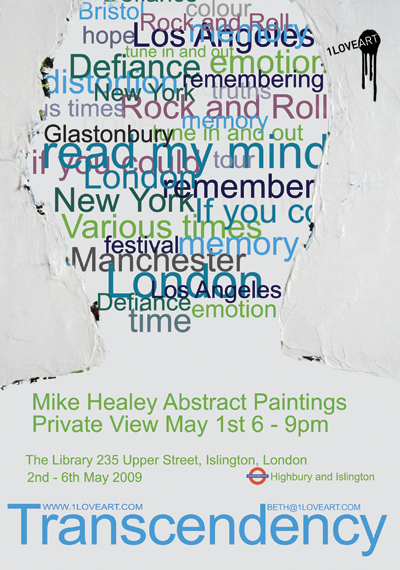 1st – 6th May 2009
Friday 1st May – Private View 6pm – 9pm
THE LIBRARY, Upper Street,
Islington, London
Tube: Highbury & Islington
Mike's much anticipated first solo show in London showcasing 18 new abstract paintings and a
limited edition print.
A series of paintings which depict various times in Mikes life on long journeys with various rock
bands over the past 20 years. Specifically in; London, Manchester, Bristol, Glasgow,
Los Angeles, Glastonbury, New York and Nottingham.
1LOVE Group Show @ Westbourne Studios

Sun 22nd – 25th February 2009
Group Show @ Westbourne Studios, 242 Acklam Rd, W10
5JJPrivate View Sunday 22 Feb From 3pm – 6pm
'The New Originals' will be bringing new work to London town in
February, with a group show to warm your cockles on Sunday 22nd February at Westbourne Studios, Notting Hill.
New and secondary original urban art from;  Sickboy, Dora, Hine, Paris, Milk, Motorboy, Starchild, Nick Walker, The Art Tart, Eelus, GhostBoy, Floyd, Tmajik, Jim Starr, DM, Gastro, LL Brainwashed, Michelle Barker, Alison Black, Hine, Simon Mills, 3megabits… More to be confirmed…
Small Art From Big Artists For the Crunch!
Sat 28th Feb – 22nd March 2009
Upstairs at The Nellie Dean – 89 Dean Street, Soho, W1D 3SU
A smaller selection of work from the 'New Originals' will be showing at
the Nellie Dean in Soho. As this is a more intimate space we will be offering smaller versions of big originals. Prints on opening night.
Private View for Nellie from 6pm – 8pm Sat 28th Feb. Please RSVP with Beth
---