How To Start A Revolution – Summer Show
25th May – 11 June
Westbourne Studios, 242 Acklam Rd, W10 5JJ.
Click the Image to view online 'How to start a Revolution' gallery.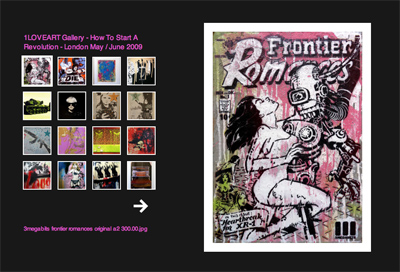 Please contact Beth with any enquiries.
Work from; Starchild, The Art Tart, Levi C, Bonnie & Clyde, Dora, Milk, DAN, The Krah, Static, Tmajik, Jim Starr, MYNE, DM, Gastro, LL Brainwashed, Michelle Barker, Alison Black, Simon Mills, Rachel Bright, Jimmy Galvin 3megabits, Whitty, Gina, Marl Hooley …more info..
Tube: Ladbroke Grove or Westbourne Park via a footbridge to Acklam Rd.
Directions: Leave Ladbroke grove tube turning left onto ladbroke grove walk under the westway (bridge). Turn first right and walk towards portobello rd. Cross portobello road and continue along path to join acklam rd following the westway above you, keeping it on your right. You will pass a skate park on your right (under the westway) and then should see a contempory building built under the westway flyover. This is westbourne studios. Or via footbridge from westbourne park tube.
View Map