Banksy – Oxfam Art Donation in Bristol
'Nice one our kid!'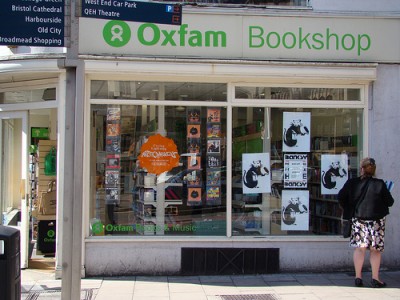 A Clifton charity shop has made more than £20,000 from selling Banksy postcards, stickers and books.
The Oxfam store on Queens Street had an anonymous donation of artwork by the secretive graffiti artist, as the exhibition of his work drew crowds at Bristol Museum.
The boost comes at the same time as an original Banksy nearby has been scrubbed off.
The shop's stock has now run out with the funds made reaching a staggering £15,000.
Michael O'Grady, store manager, said: "Summer is traditionally a quiet time for us but this has been extraordinary. We've made about £15,000 in such a short space of time just on the stock that was donated. We think that its also brought in about £7,000 to £8,000 in general trade too.
"We've no idea who donated the pieces but we are very grateful. Just 10 minutes ago someone came in asking for some merchandise and we had to tell them we had run out. There is still demand. It is just great news for the shop and for Oxfam's development."
It was a requirement of the City Museum hosting the Banksy exhibition that no merchandise was sold there.
Shoppers at the Oxfam store could buy stickers showing Banksy's distinctive social commentary, most in the form of mock road signs. A tank is shown being towed away by a tow truck, children play with an AK47 and graffiti artists are requested to report to reception before starting work.
One of the most popular stickers, on sale for 99p, read: "Put a menu through this letterbox and I will never eat your food again."
But around the corner in Pro Cathedral Lane what was thought to be a Banksy stencil has been removed from the wall of a building.
The piece which reads "Playing it safe can cause a lot of damage in the long run" is estimated to have been on the wall for over 10 years but had been surrounded by other pieces of graffiti.
Vicky O'Loughlin, press officer for Bristol City Council, said: "This was on private property and removal was arranged privately."
Like the other street pieces in Bristol, it was never authenticated.
Ronnie Jotun, of Bristol Graffiti blog, said: "There's not actually much value in having a Banksy original on your building oddly enough, as for a Banksy work to sell nowadays it has to have authentication from Pest Control, the organisation he set up to authenticate his work. It is a shame it's gone though, it was a very old piece, probably from around 1998, and was one of the better preserved pieces still out there in Bristol. That said, graffiti is never meant to be a permanent thing, and it nearly always has a temporary life span, sometimes of only hours. Nothing ever lasts forever, and we can still enjoy this one through the photos of it out there."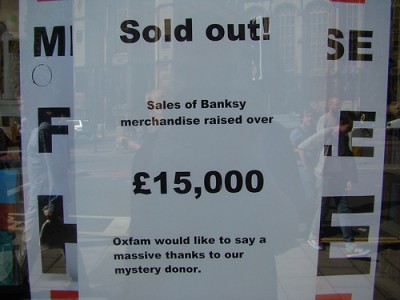 Read more:http://banksyforum.proboards.com/index.cgi?board=banksyvbristol&action=display&thread=39027#ixzz1BgklJwg5