HOLY F-CK!
Congratulations to all our artists – Dora, James Starr, K-GUY,Ben Slow, STATIC, The Art Tart and Motorboy who were part of the Dreweatts 'Urban Contemporary' Auction on Weds night – especially to Dora whose piece sold for a fantastic £2,200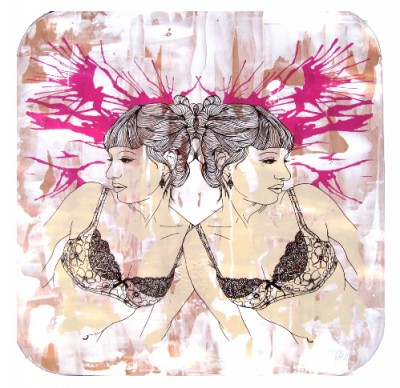 We have some brilliant work from Dora in the gallery: Coffee Cream (above) – one of four pieces made with this image on wood, each original with its own unique colour sceme and all individually hand finished with gesso and acrylic. A similar piece to this (Golden Brown) sold at auction on Weds night.
Holy Fuck – Acrylic Hand finished Screen Print on Wood and La La Libby – a beautiful ink and watercolour piece, framed at Niche in Bristol All 3 pieces are gorgeous – particularly La La Libby, which is an unusual one off original from Dora that we think we are very lucky to have! Check out Dora's profile.