New STINKFISH Original On Signed Roni Size Record Cover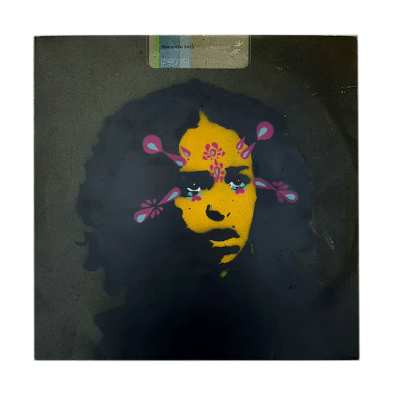 5 layer stencil / spray-paint on 12″ record cover of the classic Bristol tune
'Share The Fall'
by Roni Size and Reprazent (Way Out West Remix)
Edition 1/1 Original
September 2021
Signed by the Artist & Roni Size
Comes with 2 signed CD's and Reprazent signed stickers
£600.00 (15% donated to a Bristol Homeless Charity)
While STINKFISH was in the UK he took the time to make a one off original artwork of the 'Yellow Face' mural on Stokes Croft on a classic Roni Size record cover.
We think this is the perfect homage to all things Bristol.  So we thought we'd ask Roni if he'd consider signing the artwork and like the gentleman he is, he signed it for us! 🙂 Thank you Roni.
Roni also threw in a couple of signed CD's and Stickers to give away with the artwork, his only proviso; that we donate a proportion of profits to a Bristol homeless charity. Therefore, 15% of proceeds from the sale will go to a homeless charity.
This is a one off Bristol classic tune with an iconic one off Bristol image on the cover signed by both STINKFISH & RONI SIZE.  What a superb way to commemorate the brilliance of Bristol and the restoring of STINKFISH'S artwork in the city.
OK who wants it?